The Board of Trustees
The Board of Trustees manages the affairs, property, and assets of the Basilica of the Assumption Historic Trust. Each Trustee initially holds office for three years. The Board of Trustees facilitates investments for the maintenance, preservation, protection, repair, and restoration of the Basilica of the Assumption of the Blessed Virgin Mary.
Archbishop William E. Lori
16th Archbishop of Baltimore
Supreme Chaplain, Knights of Columbus
Vice President, (USCCB)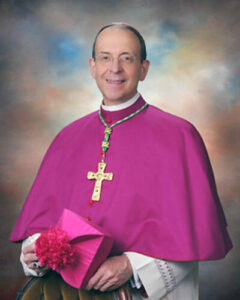 Chairman
In March of 2012, Pope Benedict XVI appointed Bishop William E. Lori of the Diocese of Bridgeport, Connecticut, the 16th Archbishop of Baltimore. Archbishop Lori succeeded Edwin Cardinal O'Brien and inherited his position as Chairman of this board. 
Archbishop Lori is chancellor and chairman of the board of St. Mary's Seminary and University in Baltimore, chancellor of Mount St. Mary's Seminary, and past chairman of the board of trustees of The Catholic University of America.
Archbishop Lori is the former chairman of the U.S. Conference of Catholic Bishops' Committee on Doctrine and the Ad Hoc Committee for Religious Liberty. He currently serves as a member of the Administrative Committee, the Priorities and Plans Committee, the Committee on Pro-Life Activities and the Promotion and Defense of Marriage Committee. He serves as a consultant to the Committee on Doctrine, the Ad Hoc Committee Against Racism and the Committee for Religious Liberty.
Last November Archbishop Lori was elected Vice President of the U.S. Conference of Catholic Bishops. In addition to these roles, Archbishop Lori is chancellor and chairman of the board of St. Mary's Seminary and University in Baltimore and chancellor of Mount St. Mary's Seminary in Maryland.
He also is currently the supreme chaplain of the Knights of Columbus.
Mrs. Stephanie Clancy
Vice President, T. Rowe Price (Retired)
Bronze Custodian
Baltimore, Maryland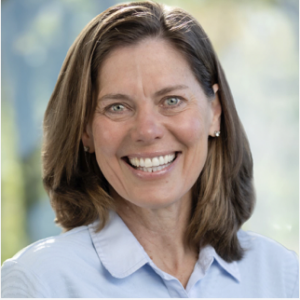 President
Stephanie Clancy is a lifelong Catholic that loves the beauty, truth, and goodness of the authentic Catholic faith. She has been a parishioner and minister at Church of the Nativity in Timonium, MD for about 15 years, and has served as a Trustee for almost a decade. Clancy was elected president of the board in 2019 , and has led the national expansion of the Board and the rejuvenation of the Trust's mission. 
Born and raised in Maryland, Clancy received her bachelor's from Towson University before earning her MBA from Loyola University, Baltimore. She then led a successful career in finance as the Vice President of the International Index Fund at T Rowe Price for 22 years. Post-retirement, Clancy has dedicated her time and talent to catholic philanthropy in Maryland. In addition to her role on this board, Clancy serves on the Archbishop's Pastoral Council, the Church of the Nativity Finance Council, the Notre Dame Prep Investment Committee, and is the 2023 Maryland Catholic Women's Conference Co-Chair. She and her husband, Michael Clancy, pledged as Bronze Custodians of America's First Cathedral in 2022. 
 "The Basilica represents what is true, good, and beautiful in our Catholic faith. It is important to preserve the building as it is a national jewel and, therefore, should have a national profile. It played a significant role in the history of the Catholic Church in America. Many events have shaped the church in America and have taken place in the Basilica. Its beauty and significance should be known and enjoyed by all Catholics in America. By preserving the building, we preserve the story and thus contribute to the preservation of our Catholic heritage, which has had, and continues to have, a tremendous influence on our country." – Stephanie Clancy
Deacon Sean P. Keller
Business Strategy Consultant, Independent
Bronze Custodian
Clarksville, MD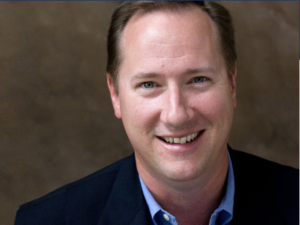 Vice President
Deacon Sean Keller is a Retired Air Force Officer and entrepreneur and business strategy consultant that specializes in developing and implementing strategies to enhance organizational value through innovative and creative approaches to traditional business challenges. 
A native of Maryland, Keller has always been active in his community, showing a commitment to both this country and the Faith. In addition to his valiant service in the Air Force, Keller earned his bachelor's degree in government and politics from the University of Maryland, College Park, and his master's degree in information and telecommunication systems for business from Johns Hopkins University. In 2016, Keller was ordained a Deacon of the Catholic Church by His Excellency, Archbishop William Lori, and was assigned ministerial duties at the Basilica.
As a Deacon, he cares for the pastoral heart of the Basilica, and through his service on this board, Keller works to preserve its body in perpetuity. Last year Deacon Keller and his wife Sheri joined as Bronze Custodians.  appointed by Maryland Governor Hogan to serve as a Trustee at Howard Community College until 2025.  
He lives in Clarksville with his wife, Sheri, a retired Howard County school teacher. 
Father Brendan Fitzgerald
Rector, Basilica of the Assumption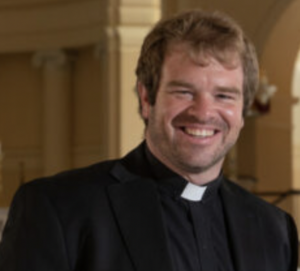 Corporate Secretary
Father Brendan Fitzgerald succeeded Father James Boric as Basilica Rector in July of 2022 and inherited his position as Secretary of this Board. He was ordained by Archbishop William E. Lori in 2020 and has been steadily strengthening his ministry in the Archdiocese of Baltimore ever since.
Father Brendan was born and raised in a devout Catholic family in northern Maryland. He followed in the footsteps of his father by attending both Calvert Hall and Loyola University Maryland, but took an unconventional path to a degree in philosophy, as he graduated from the former in 2002 and the latter in 2013. While earning a higher education, Father Brendan constantly felt pulled to serve and even considered learning a trade. After deep prayer he listened and heard a call to priesthood, enrolling in Mount St. Mary's Seminary the year after he graduated.
During his time at the Mount Seminary, Father Brnedan's sense of adventure and service sent him to Guatemala for Spanish immersion in the summer of 2016, and to Colombia in 2017 for the first half of his pastoral year. After his ordination, Father Brendan served with Sean Keller as a Deacon for the Basilica and helped lead the flock at Sacred Heart in Glyndon as an associate pastor. 
His past pastoral assignments also include:  St. Joseph, Fullerton; St. Michael the Archangel, Overlea; Antigua, Guatemala; Spanish studies in Bogotá, Colombia, and St. Martin's Home for the Aged, Catonsville; St. Maria Goretti High School, Hagerstown; New All Saints, Liberty Heights; and  St. Peter's, Libertytown.
Mr. Tyler Tate, P.E., KCHS
President, Lewis Contractors
Owings Mills, Maryland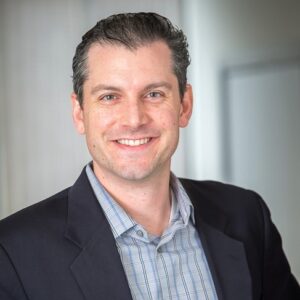 Treasurer
Tyler is a Registered Professional Engineer, a Summa Cum Laude graduate of Lehigh University, with a b
achelor's and masters
 in Civil Engineering. He began his tenure with Lewis Contractors in 2009, rising to the position of President in 2013. Tyler manages the vision, strategy and future growth of the firm, while working to build the strong bench of teams for which Lewis is known. Tyler works closely with Lewis clients, interacting with both owners and the design community—remaining personally involved in each of the projects completed by the firm.
He is involved on the boards of many organizations throughout Greater Baltimore and has been recognized by a "40 Under 40" award for Baltimore business leaders by the Baltimore Business Journal.
Mr. Eric A. Gregory, Esq.
Partner, Hefty, Wiley & Gore, P.C.
Richmond, Virginia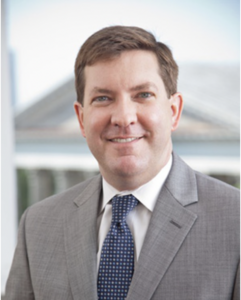 Trustee
Eric A. Gregory is a senior partner at Hefty, Wiley & Gore, based in Richmond, Virginia. For nearly a decade he has provided comprehensive legal services for the firm's public and private clients, including the firm's local and state government. These include services related to land use and zoning, contracts and procurement, human resources and employment, legislation and public policy, real estate transactions, compliance with the Virginia Freedom of Information Act, and other areas.
Gregory holds a B.A. in Spanish from the University of Richmond and a J.D. from its School of Law.  He is an active member of the Virginia Bar, and is a member of their Board of Governors, Local Government Section of the Virginia State Bar. Gregory previously served as county attorney for the Counties of King George and Powhatan. Prior to entering local government, he served as an Assistant Attorney General in the Commonwealth's Office of the Attorney General from 2004 to 2011, ultimately serving on the Attorney General's senior staff. Prior to entering public service, Gregory practiced law for a private firm in Richmond, focusing on civil litigation.
Mr. Gerald Laporte, Esq.
Securities Regulation Consultant, Laporte Consulting
Bronze Custodian
Arlington, Virginia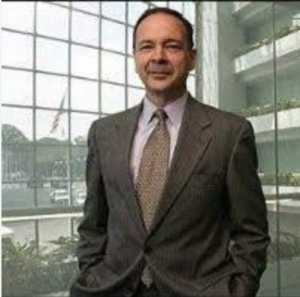 Trustee
Gerald Laporte is a retired corporate lawyer, historian, and philanthropist living in Arlington, Virginia. He has been a regular donor to the Trust for over 20 years and is now a Bronze Custodian of America's First Cathedral.
Mr. Laporte was born in Ontario, Canada, and raised in Detroit, Michigan, where he earned a B.A. in Philosophy from Sacred Heart Seminary College, Detroit, in 1968. He returned to Canada to continue his education, earning simultaneous B.Th. and S.T.B. degrees from the University of Ottawa and St. Paul University, respectively.  In 1971, Laporte completed his education in  Washington DC with an M.A. degree from Georgetown University and a J.D. degree The George Washington University in 1974 before settling in the area. Since then he has been dedicated to the governance and preservation of various institutions in the DMV area. 
For almost 40 years, Laporte has worked in corporate governance, nonprofit organization and administration, and historic preservation.  He maintains memberships in a number of organizations concerned with historic preservation, including the National Trust for Historic Preservation, the Latrobe Chapter of the Society of Architectural Historians, the D.C. Preservation League, the White House Historical Society, the United States Capitol Historical Society, the Lincoln Group of the District of Columbia, and the Civil War Roundtable of the District of Columbia. 
Aside from his role on this Board, Laporte serves on the Arlington County Historical Affairs and Landmark Review Board,  and on the Arlington Committee of 100. He is a member of Our Lady Queen of Peace Parish and serves as coordinator of the parish's gun violence prevention ministry and as a volunteer in its food pantry ministry.
"I have long been interested in history, historic preservation, architecture, and, specifically, the history of the Catholic Church in the early United States. Preservation of America's First Cathedral is important to help tell the story of the Catholic Church in the United States. John Carroll, America's first bishop, led the effort to build the cathedral as well as the effort to organize the Catholic Church in the newly independent United States. He was a patriot sympathetic to the ideals of political freedom inherent in the American Revolution. He wanted to build a cathedral and organize a church consistent with those ideals and different from the Catholic churches of Europe. America's First Cathedral is an awesome testament to that vision."
Bishop Dennis J. Madden
Urban Vicar, Auxiliary Bishop Emeritus
Archdiocese of Baltimore 
Titular Bishop of Baia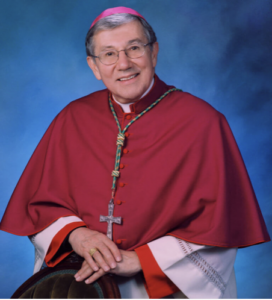 Trustee
Bishop Denis J. Madden was ordained an Auxiliary Bishop for the Archdiocese of Baltimore at the Cathedral of Mary Our Queen on August 24, 2005.
Bishop Madden was born in Carbondale, Pennsylvania on March 8, 1940. He received his undergraduate degree from St. Benedict's College in Atchison, Kansas, before his ordination to the priesthood on April 1, 1967. He received a master's degree in psychology from Columbia University in New York and a Ph.D. in clinical psychology from the University of Notre Dame. He is a licensed clinical psychologist in the State of Maryland and the District of Columbia. In 1973, Bishop Madden moved to Baltimore and took a position in the psychology program at the University of Maryland, while also working part-time as a marriage and family counselor for Associated Catholic Charities. In spite of his busy schedule, Father Madden frequently made time to celebrate Mass at St. Martin's in West Baltimore and to provide long and short term counseling to many of the priests and religious sisters in the Archdiocese.
From 1996-2005, the future bishop served as Associate Secretary General of the Catholic Near East Welfare Association, established by Pope Pius XI in 1926 to work on behalf of the Holy See in those lands in which from ancient times the majority of Christians belonged to various Eastern churches. The main activities of the CNEWA include assisting the Holy See, building religious institutions, facilitating priestly ministries, preparing church leadership, responding to urgent human needs, caring for needy children, building social service institutions, promoting social development and foster interfaith communication. From 1994-1996 Bishop Madden also served as the Director of the Pontifical Mission for Palestine office in Jerusalem.
Among his duties while with the CNEWA, Bishop Madden served as the chief negotiator among the three ecclesiastical authorities responsible for repairing the dome of the Church of the Resurrection in Jerusalem.
Bishop Madden has edited a book and written numerous journal articles and chapters in books in the field of psychology. Prior to assuming responsibilities at the offices of the Pontifical Mission for Palestine, Msgr. Madden was one of the co-founders of the Accord Foundation, a humanitarian organization that has worked since 1988 in the West Bank and Gaza.
Mrs. Sandy Murphy
Catholic Philanthropist (Retired)
Bronze Custodian
San Diego, California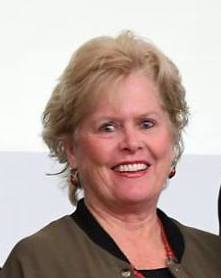 Trustee
Sandy Murphy is a retired corporate vice president, investor, and Catholic philanthropist who makes her home in San Diego, California. The older sister of President Stephanie Clancy, Sandy was raised in Baltimore and received her bachelor's in Business & Communications from Hood College in Frederick, Maryland.
Sandy married Michael Murphy and moved to California in 1981 where she had a successful career in media and communications. She was the Former VP of Communications for Cox Communications and held various positions in the newspaper, radio, and cable television industries in California. After retirement, Sandy began a new career in nonprofit governance. She previously served as a board member for the Christian Youth Theater in El Cajon, the Union of Pan Asian Communities in San Diego, and on the Board of Regents and Board of Trustees of John Paul the Great Catholic University in Escondido.
Aside from her role on this board, Sandy is a member of the board of  Catholic In Recovery in San Diego and a member of the President's Advancement Council for the Fellowship of Catholic University Students (FOCUS) in Denver, Colorado. She and her husband Michael Murphy dedicate time and treasure to several nonprofits across the nation, exemplifying the unifying mission of the faith.
"This beautiful Cathedral is America's First Cathedral, and it was constructed following a time when the ability to practice the Catholic faith was prohibited.  It is truly a national and religious treasure and is a reminder of just how precious the right to freedom of religion is to all Catholic Americans.   All Americans should be told about this treasure and the important role it played in American and Church history.  The visionaries responsible for its construction were faithful and courageous and are models for all of us as we live out our faith according to our state in life."– Sandy Murphy.
Mr. Malvin A. Pavik
Retired
Bonita Springs, Florida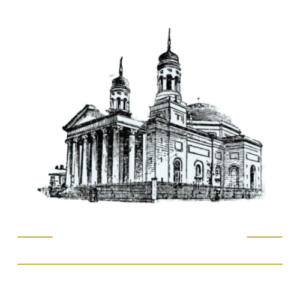 Trustee
Mr. Malvin A. Pavik has and continues to serve the Basilica of the Assumption Historic Trust with honor and distinction. After retirement Pavik pivoted from businessman to philanthropist, lending his time and treasure to the Trust and the Archdiocese of Baltimore.
In his early years on the board, he acted as a trusted advisor to the late William Cardinal Keeler, especially during the renovation and restoration of America's First Catholic Cathedral in 2006. When Father James Boric served as Rector of the Basilica, Pavik offered guidance and was instrumental in the creation and funding of the Source of All Hope Catholic Missionary Community that serves the Baltimore City. Pavik's generosity also made possible the construction of the Perpetual Adoration Chapel at the Basilica.
Pavik currently splits his time between Maryland and Florida, and continues to support the Trust.
Mr. Abiodun Babs Shonaiya AIA, PMP, LEED AP
Architect, Johns Hopkins University Applied Physics Laboratory
Laurel, Maryland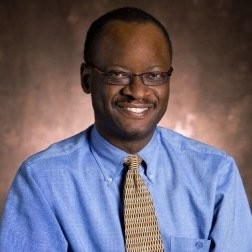 Trustee
Mr. Shonaiya has over 28 years of experience in architecture, project management, and the leadership of professional teams delivering comprehensive planning and design services to clients who own, manage or develop real property. He has performed all the design and owner roles from inception to completion, in the planning, design, and construction process in multiple organizational settings giving him a unique and comprehensive perspective of his responsibilities as an agent of the property owner.
Mr. Shonaiya develops portfolio strategy and leads programming and feasibility studies for The Johns Hopkins Applied Physics Lab's new buildings. He has managed millions of dollars worth of office/lab buildings for the Johns Hopkins Applied Physics Lab including new buildings and plant modernization. His other project types include Elementary and High Schools for various School Districts and historic restorations for the US Postal Service. Mr. Shonaiya earned an M.Arch in architecture from Morgan State University and an MBA from Johns Hopkins Carey Business School. He is a licensed architect in Maryland and a Project Management Professional (PMP).
Professor Duncan G. Stroik AIA, KCHS
Professor, University of Notre Dame School of Architecture
South Bend, Indiana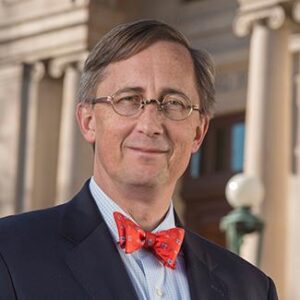 Trustee
Duncan G. Stroik, AIA, is an architect, author, and professor of architecture at the University of Notre Dame. He is the founding principal of the South Bend, Indiana-based firm Duncan G. Stroik, Architect, a national architecture practice focused on designing and restoring ecclesiastical buildings informed by the timelessness of classical architecture.
Stroik is a native of the DMV and received his architectural education from the University of Virginia and Yale University. Before he founded his own firm, Stroik had the fortune to receive training in classical architecture with Allan Greenberg.
Stroik's architectural practice grows out of a commitment to the principles of classical architecture and urbanism. For over three decades he has focused on the design of ecclesiastical, civic, residential, and collegiate buildings, which combine his passion for durability, function, and beauty. Stroik's education and career have paralleled the evolution of the international classical movement, and his work has been instrumental in the new renaissance of sacred architecture.
Mr. Stroik's work has been featured in the Wall Street Journal, the New York Times, Architect, and Traditional Building. A frequent lecturer on sacred architecture and the classical tradition, he is the founding editor of Sacred Architecture Journal and the author of The Church Building as a Sacred Place: Beauty, Transcendence and the Eternal.
Mr. Geoffrey K. Verhoff
Senior Advisor                                                Akin Gump Strauss Hauer & Feld
Washington, District of Columbia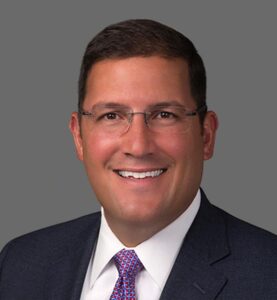 Trustee
Geoffrey K Verhoff is a Senior Advisor at Akin Gump Strauss Hauer & Feld in Arlington, Virginia. An experienced lobbyist, he advises on a wide range of legislative and regulatory matters at state, federal, and international levels. Geoff has successfully managed coalitions and large projects focused on advocacy, strategic communications, and grassroots development and outreach. His practice focuses on leveraging the intersection of politics and policy.
Geoff was born and raised in Columbus, Ohio.  He received a bachelor's in Politics from the Catholic University of America and an M.P.P. from George Mason University. Geoff remained in the DMV when he began his career and quickly made a name for himself in the public sector. In 2015, he managed a coalition of key influencers to assist with the passage of the Medicare Access and CHIP Reauthorization Act of 2015 (MACRA). He led a similar effort that significantly contributed to the passage of the Puerto Rico Oversight, Management, and Economic Stability Act (PROMESA) legislation, which gave Puerto Rico the necessary tools to restructure its debt.
Geoff worked for Sen. William V. Roth Jr. (R-DE), who served as chairman of the Senate Finance Committee, during the last three years of the Senator's career. Following that, he joined the Republican National Convention's finance team that supported President George W. Bush's successful re-election campaign. He was extensively involved in the past five presidential campaigns as well as numerous House, Senate, and third-party efforts. In 2017 President Donald J Trump appointed Geoff to the President's Advisory Committee on the Arts for the John F. Kennedy Center for the Performing Arts, and he was recognized as a top lobbyist in The Hill that same year.  
Geoff lives with his wife and two sons in Arlington, Virginia. He currently only serves on this board.
Mr. Randolph Weber Esq.
Partner, Hamilton Weber LLC
Bronze Custodian
Saint Louis, Missouri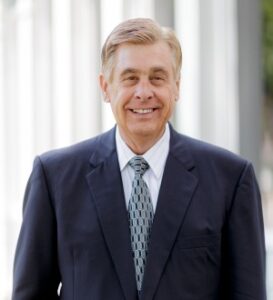 Trustee
Wm. Randolph Weber, Esq. is a Senior Partner at Hamilton Weber LLC. He is a lifelong Catholic that has used his talents to strengthen the ministries of the Faith across the country. Although born and raised in Missouri, Weber has a strong connection to the Archdiocese of Baltimore through his cousin, the late Cardinal William H. Keeler. Weber supported the Restoration of the Basilica in 2006 and now serves on the board in its national expansion.
Weber has a BA from Vanderbilt University and a JD from the St. Louis University School of Law. His practice at Hamilton Weber LLC concentrates on general corporate, state, and local government, and commercial and public finance law matters. His corporate practice has included employment law issues, mergers, and acquisitions, as well as corporate formation and organizational matters, including general business and closely held corporations, and all forms of partnership and limited liability company entities.
Aside from his law career, Weber has lent his expertise in corporate governance and served on numerous boards, including; serving as Vice President & Member of the Board of Governors at Truman State University, as the Regional Chairman & Advisory Director for US Bank, as Chairman of the St. Louis Division, Greater Missouri Chapter of the March of Dimes Birth Defects Foundation, and as District Chairman for the Boone Trails District Boy Scouts of America. Weber was also a Founding Member of the Board of Directors of the Barnes-Jewish St. Peters & Progress West Hospitals Foundation, and from 2011-2019 he was the Area Councilor, Knight Grand Cross for the Equestrian Order of the Holy Sepulcher of Jerusalem, Northern Lieutenancy.
Weber and his wife Sondra are Bronze Custodians of America's First Cathedral. In addition to his role on this board, he continues his over two decades of service on the Board of Advisors for the Salvation Army of St. Charles County and serves on the board of the Order of Malta Mobile Ministries, Inc.
Mr. George Weigel
Distinguished Senior Fellow,                    Ethics and Public Policy Center    
Washington, District of Columbia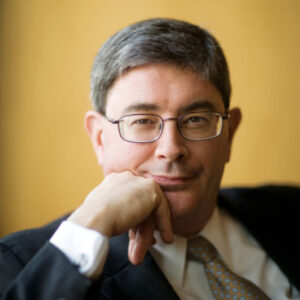 Trustee
George Weigel, currently a Distinguished Senior Fellow of the Ethics and Public Policy Center, is a Catholic theologian, author, political analyst, and one of America's leading public intellectuals. The New York Times Bestselling Author© of twenty-nine books, Weigel is perhaps best known for his widely translated and internationally acclaimed two-volume biography of Pope St. John Paul II: Witness to Hope (1999), and its sequel, The End and the Beginning (2010).
Born and raised in Baltimore, Weigel began his long relationship with the Basilica in the old Cathedral School (7 W. Mulberry Street) in 1957. He received a B.A.  in philosophy from St. Mary's Seminary and University in Baltimore and an M.A. in theology from the University of St. Michael's College, Toronto. Weigel has since been the recipient of nineteen honorary doctorates in fields including divinity, philosophy, law, and social science, and has been awarded the Papal Cross Pro Ecclesia et Pontifice, Poland's Gloria Artis Gold Medal, and Lithuania's Diplomacy Star.
From 1989 through June 1996, Weigel was president of the Ethics and Public Policy Center, where he led a wide-ranging, ecumenical, and inter-religious program of research and publication on foreign and domestic policy issues. As a thought leader in his field, Weigel's essays, op-ed columns, and reviews appear regularly in major opinion journals and newspapers across the United States. He is the Senior Vatican Analyst for NBC News, and his weekly column, "The Catholic Difference," is syndicated to eighty-five newspapers and magazines in seven countries. In 2015 Weigel featured Baltimore and the Basilica in Letters to a Young Catholic, introducing tens of thousands of readers around the world to the cathedral, its history, and its unique place in the Catholic American heritage.
Weigel has been a Trustee for over two decades and served on the Executive Committee during the restoration led by Cardinal William Keeler. He currently serves on the boards of the Community of Christ in the City, the St. Florian Foundation, and the Institute on Religion and Public Life.
Mr. Michael J. Ruck, Sr.
President, Ruck Funeral Homes
Silver Custodian
Washington, District of Columbia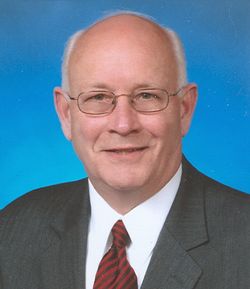 Trustee Emeritus
Michael J Ruck is the President and CEO of Ruck Family Corporations, which includes three funeral homes in the Baltimore area. A lifelong Catholic and Baltimore native, Ruck and his family have been parishioners of the Basilica of the National Shrine of the Assumption of the Blessed Virgin Mary for over 50 years.
A lover of history, Ruck served with great honor and distinction as a Trustee and President of the Trust for a number of years, and in 2006 he played an instrumental role in the restoration of the Basilica. In 2022 he was appointed as a lifetime Trustee Emeritus with all the rights and privileges of the office, before he and his wife Wendy recommitted support to the Trust as Silver Custodians of America's First Cathedral.
In addition to his role on this Board, Ruck serves on several archdiocesan boards. A former board member of the Cathedral Foundation, the parent company of the Catholic Review, Ruck is the past president of the Maryland State Funeral Directors Association and of the Maryland State Board of Morticians. He has been a member of the Order of the Holy Sepulchre since 1997 and is now the Lieutenant of Honor of the Middle Atlantic Lieutenancy.
Ruck and his wife have two grown children and three grandchildren.
Mr. John Schlageter, Esq.
Managing Partner, JKT Group                         
Washington, District of Columbia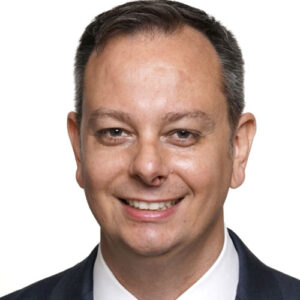 Acting Executive Director
John Schlageter is a licensed attorney and founding partner of JKT Group, a boutique consulting firm in Washington, DC that specializes in the operation and growth of charitable organizations.
John is an expert in the administration and development of religious charitable trusts and foundations. He earned his B.A. from the Catholic University of America and his J.D. from the Catholic University Columbus School of Law in Washington, D.C. From 2007-2016, John served as the General Counsel of the Archdiocese for the Military Services and from 2016-2020 as the first Executive Director of the Bethlehem University Foundation. He has served on numerous boards of directors and currently sits as a Director and Board Secretary of La Salle International Foundation, the Commissariat of the Holy Land, and is a Trustee of the Eparchy (diocese) of Saint Maron of Brooklyn.
John is a member of the Bar Associations of the District of Columbia and the State of Florida. He is the 2018 recipient of the Chaminade-Madonna Founder's Award and is a Knight Commander with Star of the Equestrian Order of the Holy Sepulchre of Jerusalem.